If you weren't aware, the Carleton Place Public Library is about to undergo a library renovation. That means we're moving out of our library building temporarily, and moving over to the Station for Active Living at 132 Coleman St.
While the library undergoes the transformation, we'll still be offering services at the Station, although with slightly fewer books. No need to worry, however–we can do interlibrary loans for any items in our collection that we aren't bringing with us. You'll still have lots to read, be able to come in and browse our collection, and use our public computers. It'll be a smaller space, but we're doing everything we can to make your library experience consistent.
You'll need to know a few important dates: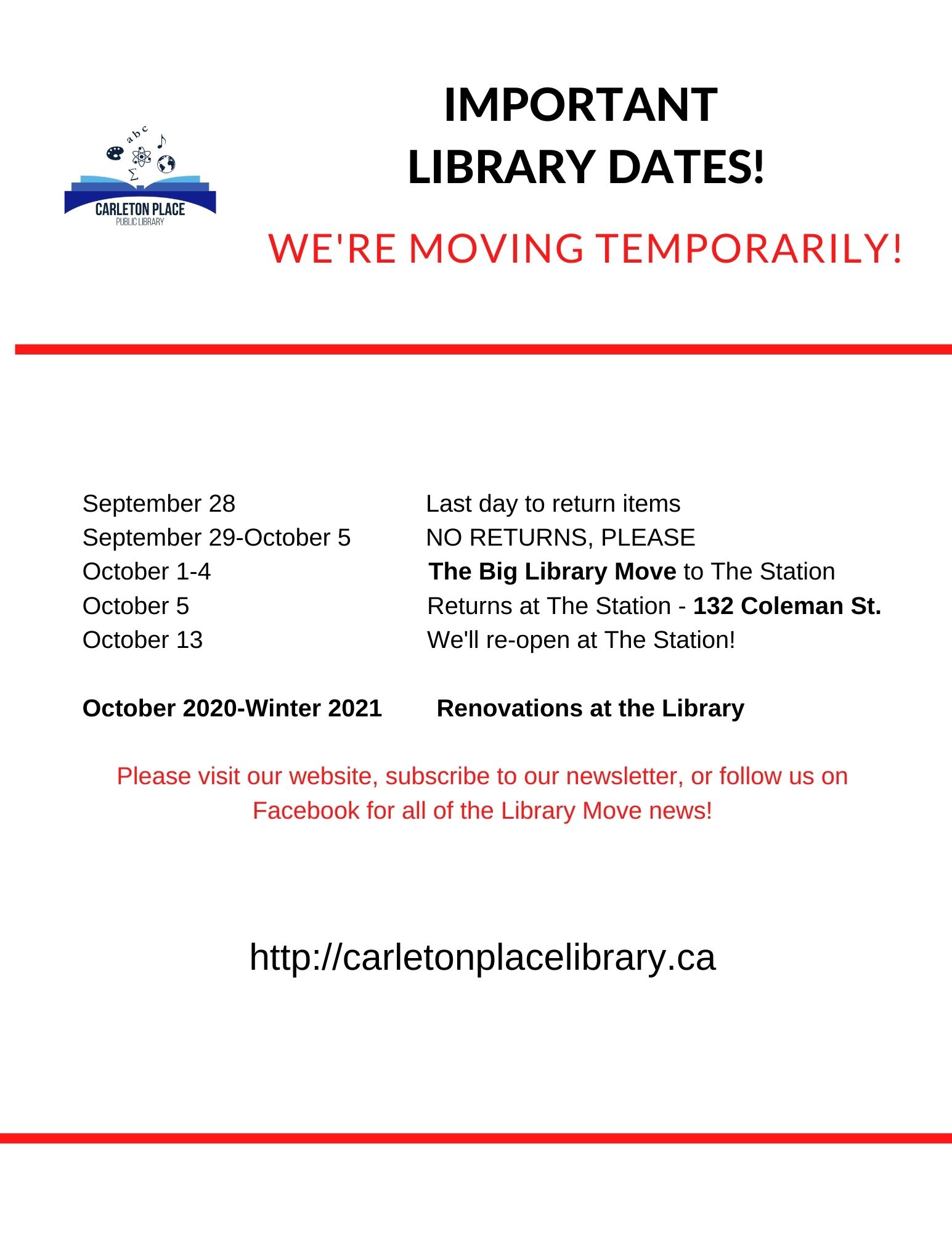 As you can see, we're only going to be at our current location until the end of September. From September 28 – October 5th, we won't be accepting ANY returns, so please plan accordingly and keep your books and DVDs at home.
The Big Library Move will happen the weekend of October 3 & 4, when staff and volunteers will be packing up our collection and furniture, and moving most into storage, and the rest over to the Station.
Starting October 5th, you can return items to our blue return box which will then be located at the Station for Active Living–and our temporary library quarters–at 132 Coleman Street, right beside the Subway restaurant.  We'll be CLOSED to the public until from Thursday, October 1st to Tuesday, October 13th, the day after Thanksgiving!
But once Thanksgiving weekend is over, come and visit us at the Station! We'll be happy to have all of you in to see our new surroundings.
You can follow all of our updates right here on the website, on Facebook, and by subscribing to our newsletter. If you have any questions, feel free to drop in to see us before the end of the month, and stock up on books before we close!
Find something to read, watch, or listen to: