It's not quite business as usual at the Library yet, but we still offer plenty of online things to do!
Programs
APRIL BREAK ACTIVITIES!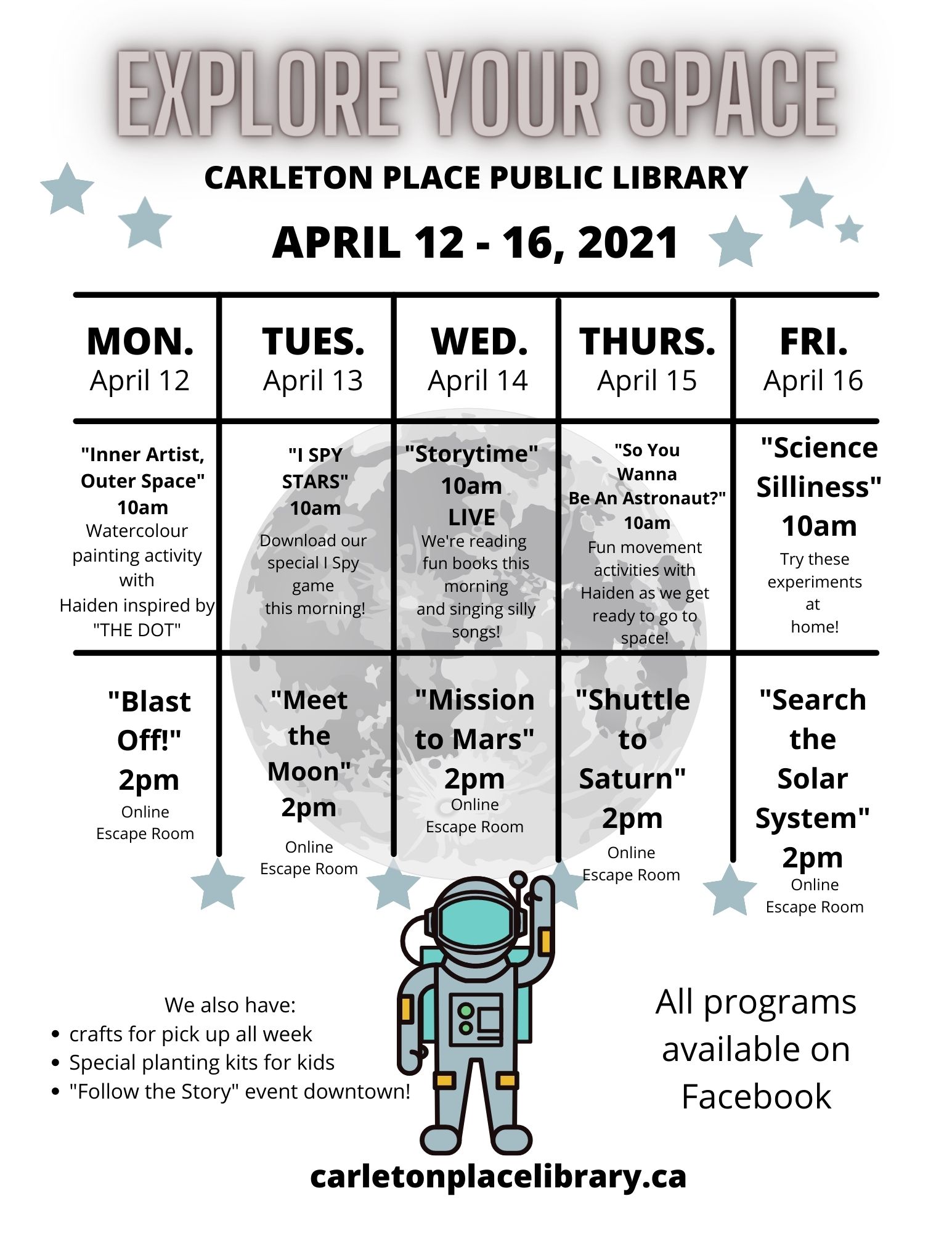 From April 12 – 16, we'll be "Exploring Your Space" for our April Break events! Download the calendar above, or pick up your kit at the Station prior to the start of the week so that you don't miss out on any of the fun. You can ask for one curbside!
We'll have daily online activities on our Facebook page, including Storytime, a daily Virtual Escape Room, special Silly Science programming, and some extra special online programs by our friend Haiden who created these for us during her stay with us in March for her Queens University education placement.
Even thought we're only open for curbside pickup, you'll also be able to ask for a fun Seed Kit, and craft kits for children, teens and adults while supplies last. While you're there, make sure to ask for one of our "Follow the Story" maps to take part in our very special event taking place all week long in Downtown Carleton Place! Find out what Beaver decides to get as a gift when he realizes it is the Carleton Place Public Library's 175th Anniversary! Ten local businesses will have a portion of the story posted in their front windows from April 12 – 16, and you'll find yourself doing lots of silly, fun things to get to the next stop!
Cookbook Book Club
Cancelled due to COVID
Meets the second Wednesday of the month at 6pm. Food, fun and friends!
The Cookbook Book Club invites you to try the recipes from a new cookbook each month, and bring something to the Book Club meeting for everyone to try. This book club encourages you to eat new food, try new techniques, and meet fellow foodies! Contact Caroline for details.
Nerd Herd Teen Book Club
Cancelled due to COVID
Ages 12+
Meets the last Wednesday of the month, 4 pm to 5:30 pm.
Join the Nerd Herd for plenty of fun! Every month Nerd Herders meet to talk about books and movies, and eat snacks. Contact Heidi for details. Reading list available here.
Adult Book Club
Meets the second Monday of the month, 6:30 pm to 8 pm.
Book club is a perfect time to relax and discuss some great reads. Refreshments provided. Contact Meriah for details. Reading list available here.
Upcoming Online Events
Monday, April 26

Wednesday, April 28

Wednesday, May 5

Monday, May 10

Wednesday, May 12
Search the library collection