Computers & WiFi
The library has five public access computers available. Computer use is limited to one hour per user per day. One "Express" machine is available for 15-minute sessions. One workstation is equipped with accessibility features for users with disabilities. Please bring your library card to access the public computers.
Each computer runs Windows and has word processing software. Access to Ancestry LE is available on each computer.
Free WiFi is available at the library. No password is required to connect.
Please read our Internet Services Policy for further information.
Printing, scanning, and photocopying
The library provides printing and photocopying services to library users at a cost of $0.25/printed black and white page, and $1.00 for colour. Please pay at the circulation desk.
The library can also scan documents to an email address or to a USB key. There is no charge for this service.
Room rentals
The Barbara Walsh room is available for rent. The room is approximately 18 by 25 feet, and features a sink, projector (available upon request) and screen, and a separate entrance. Room rentals include the use of tables and chairs.
Details for renting the room can be found in our Barbara Walsh Room Usage Policy. All renters will be asked to fill out a Rental Contract / Waiver.
Genealogy and local history
The library Genealogy room houses the local history collection and features a microfilm reader, computer, and printer. Users must sign in at the circulation desk, and must have a valid library card. Appointments are appreciated, but walk-ins are welcome. Contact the library at 613-257-2702 to reserve time in the Genealogy room.
The Genealogy Room has access to Carleton Place newspapers dating back to 1855 available on microfilm.
Access to Ancestry Library Edition is available on all library computers.
Services for patrons with disabilities
Physical Accessibility
Carleton Place Public Library is all one level and features a ramp for front door access.
Service desk features a section that is accessible to patrons in a scooter or wheelchair.
Clearance between stacks and furniture is enough to accommodate a wheelchair or scooter.
Bookdrop is at an accessible height and is operable using one hand.
Homebound Delivery Service
Home delivery service is available to residents of the Carleton Place and Beckwith area who are unable to make it to the library.
Accessible Collections
The library offers materials in a variety of formats to meet the accessibility needs of library users.  The library currently offers material in large print,  audio, and digital formats to assist users with visual impairments.
MORE INFORMATION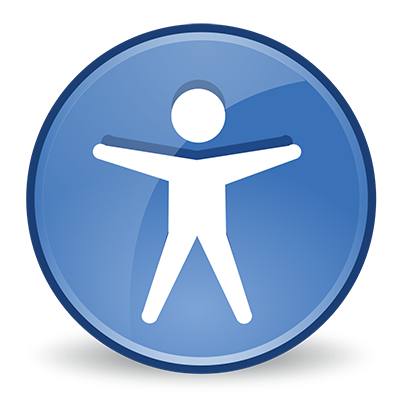 Search the library collection