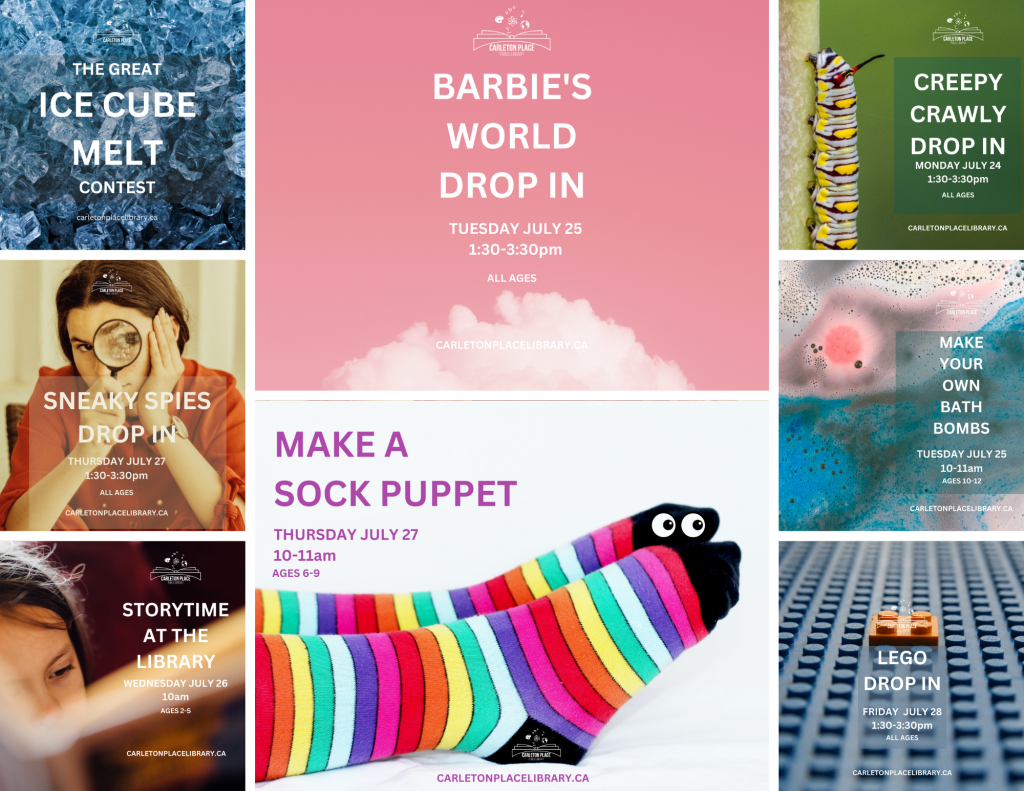 We've got another great week happening next week! Read on to find out how to register for some of these great programs….
Monday, July 24
"Creepy Crawly Drop In" – 1:30-3:30pm, All Ages–No, we won't have any bugs or snakes at the library–but our drop in program will be full of creepy critter activities and lots of fun! Come for a few minutes or stay all afternoon–we want the kids to have fun!  Parents, please plan on staying with your child as most of these activities will be self-directed.
Tuesday, July 25
"Make Your Own Bath Bombs" – 10-11am, Ages 10-12 – Your tween will enjoy this fun morning of making sweet-scented bath bombs that will be the hit of the summer. Please dress appropriately for this as it could get messy (ironic, isn't it?). Please bring a plastic container to take your bath bombs home in as well–we don't want them to be scattered throughout the library. If you register and can't make it to the event, please be courteous and let us know as soon as possible so we can fill the space with another participant. We work hard to prepare all of our programs and it's a disappointment when someone doesn't show up and we could have offered the space up to an eager participant.
"Barbie's World Drop In" – 1:30-3:30pm, All Ages–We're getting so excited about the Barbie moving coming out this summer that we just had to have a fun event based on Barbie's favourite things. Drop in to make a fun craft, play and game and see what it's all about—and wear your best Barbie (or Ken) outfit! As always, parents should plan on staying with their children during this drop in as it will be mostly self-directed.
Wednesday, July 26
"Storytime at the Library" – 10am, Ages 2-5 — It's another fun storytime at the library for the littles! Plan on having a lot of fun, listening to books and singing songs. It's a great way to round off a month of fun programming.
"Jurassic Juniors" – 1:30pm, Ages 1-3 — Dinosaur fans will love this fun storytime hybrid aimed at toddlers who know their dinos and still love to act silly. We'll sing songs, read books and much more. No registration is required! (Don't worry–for those who have reached out asking for a new time for this event, we're planning fall programs right now.)
"The Great Ice Cube Melt" — If you sponsored an Ice Cube, we're holding the event in private because it's going to take a LONG time–but don't worry, we'll film it and make sure to post the heats so you can find out if you might be a winner! Stay tuned on Facebook for the results. If you haven't sponsored an ice cube, there's still time (and it's free!).
"Queer Sphere Crafting Circle" – 2-3:30pm, Ages 12-16 – If you are looking for your people and a safe, inclusive space to just create, our new Queer Sphere is perfect for you and friends who might be allies! Stop in with your own craft, or we'll have one here for you as well–and snacks! It's a great place to relax, kick back and meet new people!
Thursday, July 27
"Sock Puppet Making" workshop – 10-11am, Ages 6-9 — Bring along a clean old sock you'd like to use, or we'll have lots available for our crafters. No need to know how to sew–we'll have a fun way to put these puppets together so that everyone goes home with one. Parents–if your child is under 8 years old, you are required to stay in the library during the event.
Please click here to register.  As always, if your child can't make it to the session, please let us know so that we can open up the space to another participant. There are always so many kids waiting to take part in events—please keep this in mind.
"Sneaky Spies Drop In" – 1:30-3:30pm, All Ages–If our Who Stole the Lemonade mystery isn't enough for you this summer, we're having a sneaky spies drop in next week as well. Hone your spy skills in some fun activities, make a craft and have a lot of fun. As always, parents are asked to stay in the library during this event as it will be mostly self-directed.
Friday, July 28
"Lego Drop In" – 1:30-3:30pm, All Ages—We're putting out the Lego again and getting ready for a fun afternoon of building challenges. Parents, please plan on attending with your child as this will be a mostly unsupervised event.
See you next week!
Find something to read, watch, or listen to: